3 Card Spread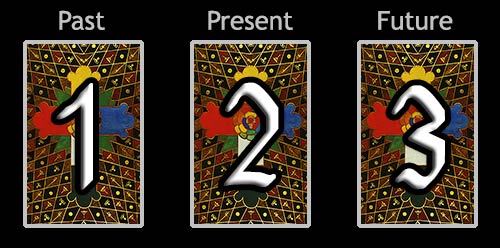 Difficulty: Very easy
This simplistic chronological spread can be used to shed light on the influences that are now behind you, current influences, and what is approaching in the near future. Not much explanation is necessary on this one.
Your 3 Card Reading
The Past

7 of Swords
The Present

The Tower
The Future

10 of Swords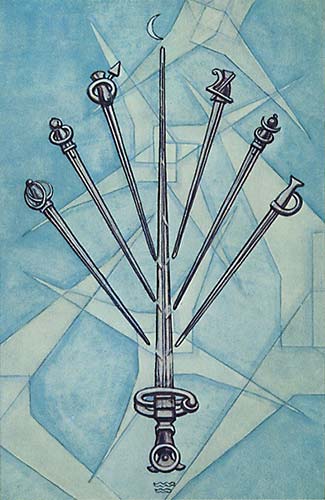 The Past

7 of Swords

Moon in Aquarius - Futility

Netzach, in the suit of Swords, does not represent such catas trophe as in the other suits, for Netzach, the Sephira of Venus, means victory. There is, therefore, a modifying influence; and this is accentuated by the celestial rule of the Moon in Aquarius.

The intellectual wreckage of the card is thus not so vehement as in the Five. There is vacillation, a wish to compromise, a certain toleration. But, in certain circumstances, the results may be more disastrous than ever. This naturally depends upon the success of the policy. This is always in doubt as long as there exist violent, uncompromising forces which take it as a natural prey. This card, like the Four, suggests the policy of appeasement.

The symbol shows six Swords with their hilts in crescent formation. Their points meet below the centre of the card, imping ing upon a blade of a much larger up-thrusting sword, as if there were a contest between the many feeble and the one strong. He strives in vain.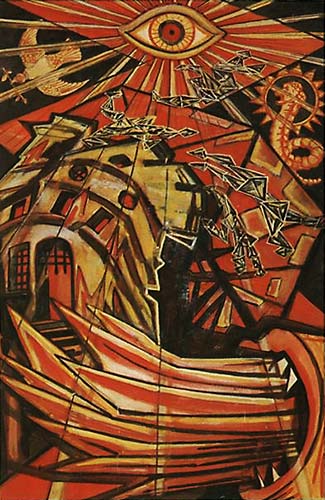 The Present

The Tower

Mars

Break down the fortress of thine Individual Self, that thy Truth may spring free from the ruins.

Quarrel, combat, danger, ruin, destruction of plans, sudden death, escape from prison.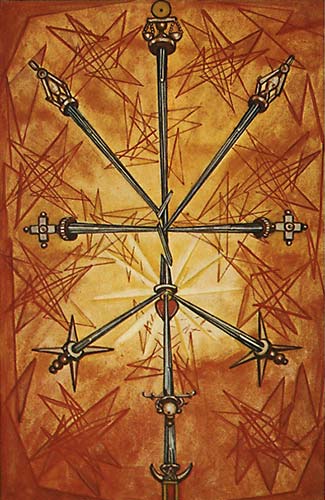 The Future

10 of Swords

Sun in Gemini - Ruin

The number Ten, Malkuth, as always, represents the culmination of the unmitigated energy of the idea. It shows reason run mad, ramshackle riot of soulless mechanism; it represents the logic of lunatics and (for the most part) of philosophers. It is reason divorced from reality.

The card is also ruled by the Sun in Gemini, but the mercurial airy quality of the Sign serves to disperse his rays; this card shows the disruption and disorder of harmonious and stable energy.

The hilts of the Swords occupy the positions of the Sephiroth, but the points One to Five and Seven to Nine touch and shatter the central Sword (six) which represents the Sun, the Heart, the child of Chokmah and Binah. The tenth Sword is also in splinters. It is the ruin of the Intellect, and even of all mental and moral qualities.